Join Us at New York Therapy Animals

Help Inspire a Difference
New York Therapy Animals offers a comprehensive continuing education therapy animal program to ensure safety, confidence and enjoyment.
We call it "Serious Fun!
   
             
"Let the beauty we love be what we do." —Rumi
Become a Therapy Animal Team
New York Therapy Animals requires the handler and their dog to complete the 7 week training and education process to become a trained, licensed and insured therapy animal team. Interested people without an animal must attend the one day workshop to become a volunteer ambassador and/or a college intern. The process requires an initial investment of time and money, and then ongoing education, training and commitment.
The 1st step is a phone conversation with the founder and director of New York Therapy Animals. This is an opportunity to ask questions and learn about the essential requirements for our volunteer services.  Nancy@NewYorkTherapyAnimals.org  212 535-2211
Two Part Training and Education Process:
1. Attend the 1 day Workshop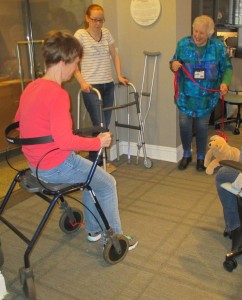 We are the NYC affiliate of Intermountain Therapy Animals (ITA) and use their training and testing protocols.
Copyrighted ITA team training manual since 1993
Educating the handler without your animal to have your undivided attention
Fun and informative day with interactive conversation and guest speakers
Licensed ITA Instructors: Nancy George-Michalson and Michele Siegel
Topics of conversation: Preparation, Procedures, Populations, Safety, Etiquette, Placement, Demonstrations, Q and A
Workshops are held in New York City at the Ronald McDonald House-New York
Reservations required
Workshop is taught every 7 weeks year round
Volunteer Assistants: Workshop is required for volunteers without an animal
2. Therapy Dog Training Classes with Michele Siegel  (6 hands-on classes with your dog)
Michele is a CPDT, APDT, CGC (Canine Good Citizen) Licensed Evaluator, ITA Licensed Evaluator/Instructor an expert in her field with 20+ years of therapy dog teaching experience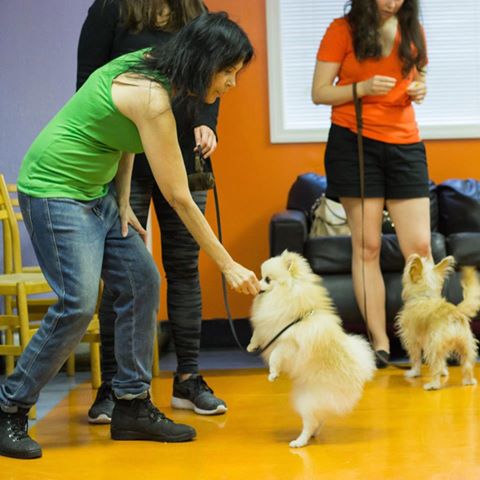 You will learn life lessons with your dog and this will give you a solid training foundation to continue practicing good manners and to help prepare you for the therapy dog team skills and aptitude evaluation.
Learn to build a solid and supportive relationship with your dog
Compassionate and humane teaching methods building trust and respect
Learn life-long lessons with expert guidance through positive reinforcement techniques
Refresh basic obedience cues
Familiarize you and your dog around medical equipment
Prepare you and your dog for the evaluation skills and aptitude screening
New York City location: 75th and Paws
New class series continuously every 7 weeks  year round
Required Evaluation Screening as a team with your animal partner once you have completed the workshop and 6 hands-on training classes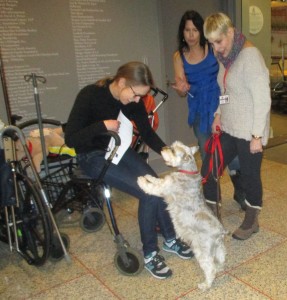 You and your dog will be evaluated for appropriate skills and temperament, your relationship with your dog and your social interactions with clients.
Dogs must reliably know basic obedience, be well-mannered and good listeners.
Handlers must be pro-active and an advocate for their dog at all times.
Scheduled on a date after completing the one day workshop and 6 training classes
Reservations required
Monthly evaluation schedule
One passing the evaluation the dog must be screened by your veterinarian
Complete the membership application and submit to headquarters
Placement Opportunities
Once becoming a registered New York Therapy Animals therapy dog team we personally assist our teams with placement opportunities available in hospitals, healthcare and assisted living facilities, shelters, schools and libraries, colleges and for community events, activities and presentations. There is something for everybody to enjoy and feel happy about giving back to the community. Volunteers without animals play a significant role in our organization as well. We want our volunteers to be active volunteers. We are committed to help facilitate the process efficiently.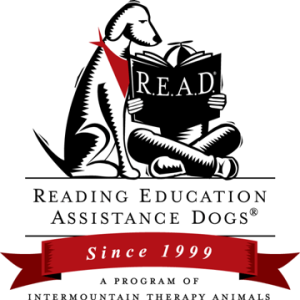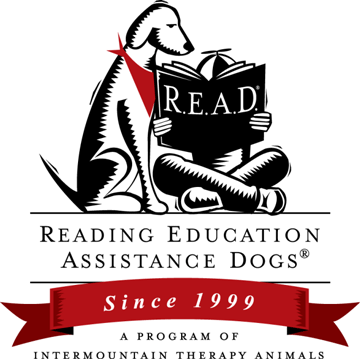 We are the official New York City R.E.A.D. affiliate and we coordinate all New York school and library placement for our teams. This is an additional course once the handler and their dog are a registered  team. We partner with the Department of Education (DOE) and the New York Public Library, the Queens Library, READ718 Brooklyn and the for all R.E.A.D. school and library programs in New York City, Brooklyn, Queens, Bronx and Westchester.
Personal ongoing support and mentoring and continuing education
Follow up meetings and mentoring to assist with volunteer choices
Continuing education classes and workshops for the teams working with different populations
Dog training behavior support
Tricks in a Therapeutic Environment Training classes
How to deal effectively and appropriately with clients and staff
Arrangements for observing new venues and site assessments
Shadowing teams to help acclimate in new environment