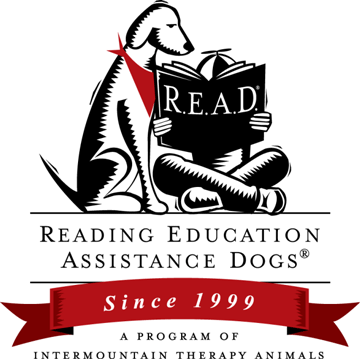 R.E.A.D.® Reading Education Assistance Dogs®
Children's literacy program of Intermountain Therapy Animals
The mission of the R.E.A.D. program is to improve the literacy skills of children through the assistance of registered therapy teams as literacy mentors.
In 1999, ITA designed and launched the first and foremost reading-with-therapy dogs children's literacy support program. This program helps improve children's reading, communication and social skills by utilizing registered therapy animals (most likely dogs, but cats and bunnies, too!) and their human teammate in a non-judgmental atmosphere in schools and the New York Public Library. Participating students make enormous strides building self-esteem and confidence. There are over 4,500 therapy animal teams and affiliated organizations in all 50 states and in 15 different countries.
Learning to read is often less about intellectual limitation than about overcoming fears. Fear can be debilitating. The program focuses on K-3rd grade but is equally successful for students with special needs, physical and intellectual disabilities and ESL (English is a Second Language) students.
New York Therapy Animals is the NYC affiliate for the R.E.A.D. program.
Contact Nancy for membership details and program requirements with copyrighted materials. Learn the education process of having children read TO your therapy dog!
The heart of the R.E.A.D. program is the relationship between the handler, their dog and the student in a safe and secure environment. 
The Therapy Dog
Trained and tested for health, safety, appropriate skills and temperament
Non-judgmental
Does not laugh or criticize
Calm and attentive and predictable
Good listener
Less intimidating than peers and adults
Enjoys children and being petted
The Therapy Handler
NYC Registered therapy team with ITA and New York Therapy Animals
Completed R.E.A.D. literacy and interaction techniques
Relates, interacts and is supportive with their dog at all times
Reading support mentor/facilitator enjoying the company of children
Good social skills
Helps students build vocabulary and fluency
Dependable and committed to volunteering
The Benefits
Reading levels have significantly improved with feelings of pride and accomplishment
Life changing difference with a dramatic effect
Student reads TO the dog at their own pace decreasing the anxiety of reading aloud
Focus is on the goals and not performance
Lowers blood pressure
Helps students to relax
Empowering as the student becomes the tutor
Involved in outside activities
Students raise their hands more in class
It's FUN!
 R.E.A.D. placement opportunities:
 New York Public Library
Brooklyn Library
Elementary and Middle Schools
Special Education
R.E.A.D. at School and Library Videos:  R.E.A.D. on YouTube
The R.E.A.D. Program  http://www.therapyanimals.org/read