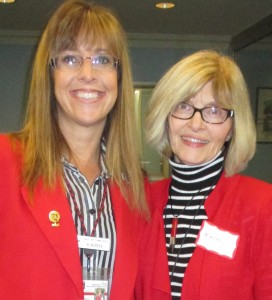 ITA Mission and Philosophy
Kathy Klotz, Executive Director since 1997 (pictured right)
Karen Burns, Assistant Director
We have long held that companion animals, therapy and otherwise, are one of the best answers in the daily challenge of defeating the forces of fear, hatred, and violence in the world. They are superb role models. They offer no criticism, no shallow judgment, just total acceptance. Just love, basking in love and acceptance is the most validating experience we can have, liberating us to stop being afraid, to be our best selves, to bloom, to heal, to enjoy and be appreciated.
With a small dedicated staff and very efficient operations, the ITA organization has grown to be one of the largest organizations of its kind. Our standards, practices, education, training, and client service are exemplary in our arena.
---
The animal-assisted therapy services can be there for people of all ages and socio-economic circumstances when they receive devastating diagnoses and injuries.
---
Our four-footed therapists and their handlers enter these situations with great wisdom and sensitivity; they are catalysts, motivators, sources of fun, hope, and inspiration.
---
They take the work out of the work, and the pain out of the pain.
---
Our animals' impact is immediate. Our clients' therapists tell us over and over, year after year, that ITA therapy animal teams inspire cooperation, participation, and progress that they cannot otherwise elicit from their patients. Often nothing is more effective.
---
Our ITA staff is committed to staying personal.
---
What our animals teams do, what is so inspiring in supporting healing is definitely personal. It is the very definition of healthy relationships. Some psychologists now theorize that the concept of relationship is indeed the essential requirement to produce positive change. We continue to recommend lots of furry, four-paw love—it's a comfort and a constant in our ever-more-challenging world.
Visit Intermountain Therapy Animals
New York Therapy Animals is honored to be the ITA New York City affiliate.